Traditional Materials & Designs
One of the largest wholesale suppliers to the Trade
Terra Cotta Flooring
Traditional Reclaimed Materials, with decades of experience, has a well deserved national reputation for providing the very finest reclaimed architectural salvage materials and reproductions.
We maintain the highest standards of integrity and customer service and provide the very best wholesale prices.


Traditional Reclaimed Materials terra cotta flooring is all hand made with natural earth materials from all over Europe.
We pride ourselves with the care we take to select only the finest reclaimed tiles in reds, rose hues, ochre and cream colors.
We offer every shape and size available including hexagons, squares and rectangular shapes both in stunning slate ochre and classic red colors.
Sizes range from 6inch up to 14inches.
Terra cotta flooring is used extensively in interior and exterior installations from living areas to decks and walkways.
This is a fabulous way to add patina and value to your estate or home.
All Terra cotta is hand selected from our quarries in Spain, Italy, France and Mexico. It is then cleaned, washed and upon request is waxed for final installation.
Sizes available in mixed or seperate color of reds/roses or ochres/yellows:
Old Parfeuille French terra cotta size 8.75in.x 14inch .squares of 6inch, 8inch,10inch & 12inches. Rectangular sizes from 4inch x10.
Spanish, Italian & French square terra cotta in red and ochre,
Spanish & Italian small "RASILLAS" also in red or ochres.
Reproduced European and Mexican red or yellow Terra Cotta.
If you have any questions and wish to contact our representatives please email:
Laguna Beach, CA: (831) 238-2171
San Juan Capistrano: (949) 218-1888
Santa Barbara: (805) 895-9200
San Diego: (949) 218-1888
Huntington Beach: (949) 218-1888
San Francisco / Bay Area: (831) 238-2171
Oregon / Washington (949) 218-1888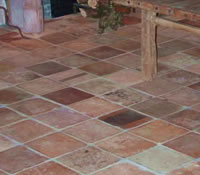 LOCATIONS
Laguna Beach, CA.
Santa Barbara CA.
San Diego, CA.
San Juan Capistrano, CA.
San Jose, CA.
Bruges, Belgium
Provence, France
Tuscany, Italy
Andalucia, Spain