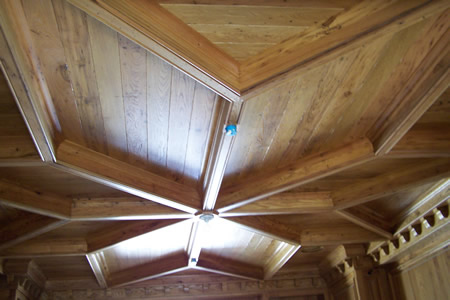 Traditional Materials & Designs
One of the largest wholesale suppliers to the Trade
Reclaimed Roofing - Reclaimed Antique Roofing
Traditional Reclaimed Materials, with decades of experience, has a well deserved national reputation for providing the very finest reclaimed architectural salvage materials and reproductions. We maintain the highest standards of integrity and customer service and provide the very best wholesale prices.


Traditional Designs offers a variety of wood beams obtained from old villas and estates both domestically and all throughout Europe.
Traditional Designs creates texture and cut marks created by the saw blade which provide a timeless aesthetic that calls back to a time when the human relationship with nature was more hands on. We value this process and cherish the opportunity to create a room that will never be forgotten.
Solid hand- hewn beams make a fabulous addition to any interior or exterior project. Solid hand hewn beams are best in a nonuctural decorative design.
Antique hand hewn beams provide a robust, warm and comfortable vibe. Antique hand- hewn beams retain the original axe marks left behind by the gifted artisan who crafted them.
Antique rough sawn wood beams have a refined rustic appeal and include teeth marks from the actual blade once it was initially milled. Sawn wood beams give a more finished look when exposed in any room of the estate. They may be rough sawn or sanded or planed smooth. Sawn wood beams from Traditional Materials & Designs make beautiful accents as rails and mantels.
Antique Wood Beams- These beams with cutouts, peg holes and mortise cuts add to the authenticity and character of these wood beams. Some clients may want their antique wood beams to be clean without cutouts. These requirements are almost impossible to find not to mention diminish the authenticity. Keeping the integrity of the specie is vital when deciding to go with antique beams.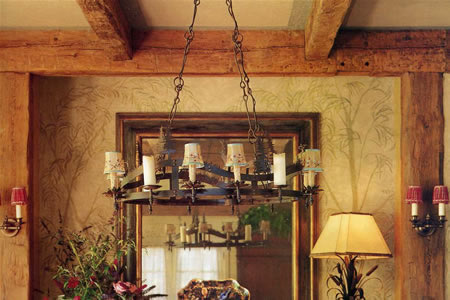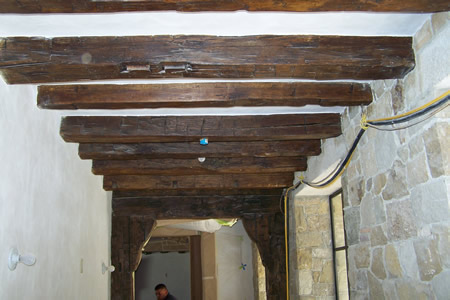 If you have any questions and wish to contact our representatives please email:
traditional@redshift.com
ccmcfarland24@gmail.com
Laguna Beach, CA: (831) 238-2171
San Juan Capistrano: (949) 218-1888
Santa Barbara: (805) 895-9200
San Diego: (949) 307-4293
Huntington Beach: (949) 307-4293
San Francisco / Bay Area: (831) 238-2171
Oregon / Washington (949) 307-4293
LOCATIONS
Laguna Beach, CA.
Santa Barbara CA.
San Diego, CA.
San Juan Capistrano, CA.
San Jose, CA.
Bruges, Belgium
Provence, France
Tuscany, Italy
Andalucia, Spain



© Traditional Materials -Reclaimed architectural elements architectural salvage. Leader in supplying wholesale reclaimed floors, and flooring.reclaimed wood beams, roofing, garden elements, fireplaces, antique fountains, terra cotta roofing, and terra cotta flooring. We carry a vast selection of reclaimed cobblestones and reused bricks, antique wood doors, limestone, limestone flooring, marble and more! Unique garden and landscaping design ideas with formal or antique garden pots, planters and large urns that will add color and dimension to your home.